Join Us August 20 to Support Charlie's Angels Chari-Tee Event
Friends and family of Innovative Orthodontics know that we love to give back to our community. We think supporting the people who support us is quite honestly just the right thing to do. But this time, we're supporting an event that's especially close to our hearts. We truly hope you'll join us on August 20th, 2021 for the Charlie's Angels Chari-Tee Benefitting FAST. We're going to have a LOT of fun, all in the name of a great cause.

On August 20, Charlie's Angels Charity is partnering with the Foundation for Angelman Syndrome Therapeutics (FAST) for a golf tournament and silent auction on to raise money for research and treatment of Angelman Syndrome. We're teaming up with the Center for Pediatric Dental Health to support this event because we want to shine a light on the incredible work they're doing — and to highlight their quest to find a cure for Angelman Syndrom.
You may not have heard of Angelman Syndrome, and you aren't alone. It's a genetic disorder that is so rare that it only affects about 500,000 of the estimated 7.8 billion people worldwide. But it's a disorder that makes living a normal life a challenge for young patients, including one patient known well to those of us at Innovative Orthodontics. We want to tell you her story — the story of a little angel named Charlie.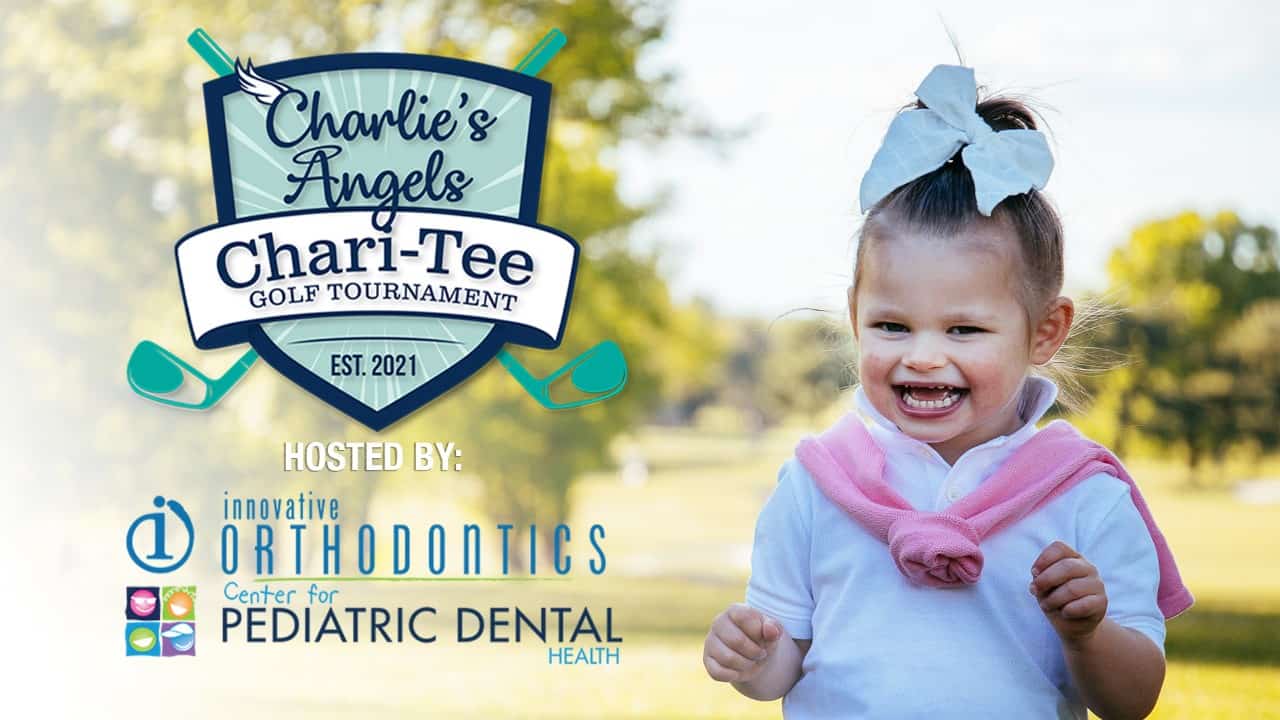 An Angel Named Charlie
Charlie is a beautiful, 3-year-old girl with blonde hair, bright eyes, and a smile that could light up any room. She's a little girl who loves to hear others laugh so much that she laughs in response. 
She's a little girl who was having trouble with motor skills, speech and swallowing. Her laughter isn't always in response to others, and her energy level often spiked beyond normal for a child her age.
Concerned, her parents took her to the doctor, who finally told them why their daughter was struggling with what should have been normal motor skills. In June 2020, her parents got their answer.
Charlie is a little girl with Angelman Syndrome.
What Is Angelman Syndrome?
Angelman Syndrome is a rare genetic disorder that only affects about 500,000 people worldwide. Those with Angelman Syndrome have their 15th chromosome muted. It's there, but it doesn't respond. The result is a delay or difficulty in motor functions and development. 
The disorder doesn't affect their cognitive abilities. In Charlie's case, she's capable of understanding speech. She just has difficulty performing it because AS mutes her motor skills. 
AS has four genotypes. Charlie's type is called uniparental disomy (UPD), which accounts for only 3-7% of the total number of AS cases. 
Symptoms aren't recognizable right away. Infants may have trouble eating as the initial signs. By 6-12 months, the slower development of speech, walking, clapping, and pointing is more evident. In Charlie's case, she was nearly two years old before she was diagnosed. The disease is sometimes misdiagnosed as autism or cerebral palsy because it's so rare.
Charlie's Angels are working with FAST to help fund research for a cure, which scientists believe is more probable than other neurological disorders. They also help fund the intensive therapies AS patients need to improve their speech and motor skills. AS patients will need assistance throughout their lives, but they can lead full lives despite the disorder.
Raising Money for Charlie's Angels
Innovative Orthodontics and the Center for Pediatric Dental Health are teaming up as host sponsors for the Charlie's Angels Chari-Tee Golf Tournament. The event will take place on August 20, 2021, at Ramblewood Country Club in Mount Laurel, NJ, and will include a silent auction. Proceeds from the event will benefit Charlie's Angels and FAST. 
The best part is, you don't have to be a golfer to participate! You can join us for lunch or simply help by donating to Charlie's Angels. You can register and find more information on the event on the Charlie's Angels website. 
This is a cause we truly believe in and one that is close to our hearts. We are honored to help sponsor this event and support Charlie and her family, who we consider a part of our family. Please join us on August 20th and help support an amazing cause named after an amazing young girl.