The Importance of Getting Your Child a Free Orthodontic Consult by a Specialist by Age 7
The American Association of Orthodontists recommends a screening by an Orthodontic Specialist no later than Age 7, or even earlier if a parent or a dentist discovers a problem. By this age, several permanent teeth in most children have erupted, allowing the Orthodontist to effectively evaluate the orthodontic condition.
Don't worry! Most 7-year-olds don't require orthodontic intervention.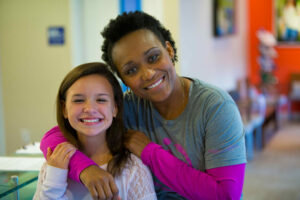 However, for the small percentage of those that do, if the problem is not caught in time it may be difficult, if not impossible, to treat later in life. In addition, permanent and irreversible damage may already have been done. (View image)
To ensure that no orthodontic problem is missed, Innovative Orthodontics offers COMPLIMENTARY CONSULTATIONS to all patients! If you want to find out more, schedule your first consult now!
Here is a list of the primary reasons for a child to visit an Orthodontic Specialist by Age 7:
Early or late loss of "baby" teeth
Anterior or posterior crossbites
Insufficient space for the eruption of permanent teeth
Severe crowding which is causing stress and damage to the supporting tissues
Thumb-sucking or Finger-sucking habits
Severe protrusion of teeth, leaving them at risk of trauma
Mouth breathing
Speech difficulty
Biting the cheek or biting into the roof of the mouth
 No overlap of the upper front teeth over the lower front teeth (Openbite)
Facial imbalance or asymmetry
 Grinding or clenching of teeth
Inability to comfortably close lips
Difficulty chewing or biting
If you have any questions, please reach out to us! We are here to help, and are always looking for ways to give you and your family more reasons to smile!